SYLM Workshop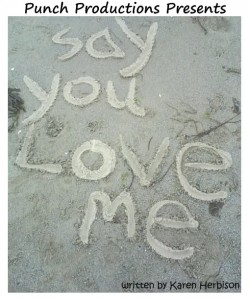 Meeting for a "swan song" dinner, Lee and Jane reveal the tumultuous story of their lives through a combination of funny, angry, quirky and poignant conversations.
From their first unique meeting, scribbling notes in the sand, through the highs and lows of their exciting and passionate, if frustrating, affair, the characters reveal the intricacies of their relationship.
With strong support from Mo, Jane's friend, who arrives like a tornado at the point of crisis, the play reaches a heart wrenching conclusion. 'Say You Love Me' will leave you replaying the conversations and events in your mind, unsure whether to laugh or cry.
"Say You Love Me" (SLYM) is a dinner-theatre piece, that was commissioned by North Lanarkshire Council for their "Young At Heart" Arts Festival in 2007. Since that time, it has enjoyed many performances including a critically acclaimed run at The Edinburgh Fringe in 2012.
The SYLM Creative Writing Workshop is aimed at developing the creative writing skills of Secondary School Advanced Higher English Students. Students will develop their writing process including approach, suitable plots and characters, writing rhythms, constructing dialogue and how to develop an idea. Students will also learn analysis skills, writing and then revisiting experimental paragraphs.
The workshop was initially commissioned by Paisley Grammar School's English Department. It lasts two hours and can be accompanied by a reading or performance of the play. It can take place during or outside of school hours.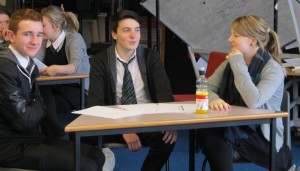 "I could really engage through seeing the play and then being able to ask about it from the writer's point of view" Advanced Higher English Pupil, SYLM Workshop Participant
"I had a better understanding of the play when viewing it.  Also, it was much more dynamic and a good learning technique to engage us all" Advanced Higher English Pupil, SYLM Workshop Participant
"I thoroughly enjoyed the workshop and would recommend everyone to do it" Advanced Higher English Pupil, SYLM Workshop Participant
For more detailed information or to discuss the workshop further, please contact us.