MORE Tillie & Eddie Success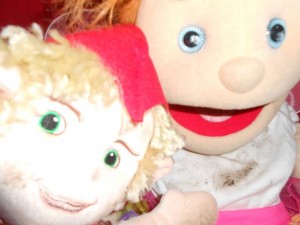 Tille and Eddie are heading to college!!
Following a busy and successful visit to Mugdock Country Park, Tillie & Eddie are going to college today!!
Staff at the Kilwinning Campus have been using a copy of  "Tillie The Naughty Fairy … And Her Grandpa's Teeth" with children attending the nursery.
Feedback on the use of the story as a tool for storytelling and pre-drama activity has included comments like "vocabulary expanding", "ticking the Curriculum For Excellence boxes", "Engaging" AND much, much more (including the all-important FUN! FUN! FUN!).
Today the children at Kilwinning will meet their new heroes when Karen takes the irresistible puppets along for the highly interactive story session.
Keep your eyes open for more TILLIE news!!!